Discover

Montana's

#1 Golf Course

_
Loved this place! Will be back for sure!

We loved our stay at the Wilderness Club! Highly recommend you try it out. The service was great - the staff are all so friendly and helpful. The pool service staff in particular were so welcoming and made great poolside smoothies! My husband and young son had a great round of golf and I loved the horseback riding at the equestrian center. The horses are so well cared for and Christy the lady that runs the facility is WONDERFUL. You can see how well she cares for her horses and loves what she does. She's a huge asset to the resort. We'll be back for sure!!

- Segreto77 .

One Scenic Golf Course

Had the pleasure of two days at Wilderness Club and could not speak highly enough about the experience. The golf course is spectacular, the rooms were large and brand new, and the staff was helpful and knowledgeable. Would recommend it for high to low handicappers.

- Jim A.

Great Food at the Wilderness Grille

They just opened up the Restaurant and they have great food. Make sure you go and try it. They have the best banana fritters cheesecake that you will ever eat. Great family running the restaurant with great people.

- max61984.

Hidden Gem

A perfect getaway. If you are looking for a beautiful, quiet getaway with wonderful accommodations, a beautiful golf course, and amazing staff I hope you visit. Kudos to Tony at the pro shop, Ted and Leslie at the front desk, Wayne at the Wilderness Grill and Frank the chef who went out of his way to serve us delicious food and a personal touch.

- Cabo Cathy.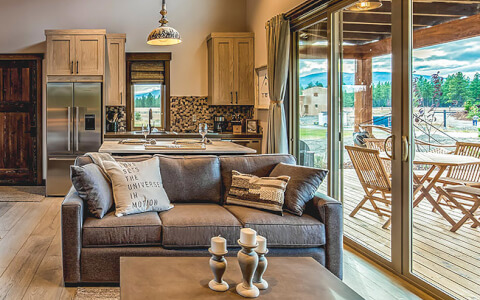 Real Estate

Your New Home

Our 550-acre resort property is also home to an established community of residents. Whether you're in search of your first vacation cabin or a luxury cottage to enjoy year-round, our custom-built homes provide myriad options and floor plans.